Original formula focused
on amino acids
It's not just about being gentle, but about pursuing beauty.
MINON Amino Moist original formulation with sensitive skin in mind.
For sensitive skin susceptible to external stimuli from which moisture easily escapes. First, it's important to maintain the skin natural barrier functions. In addition to nine types of hydrating amino acid for supporting your skin barrier functions, amino acids that take care of troubles that are likely to occur in certain skin types are also combined. Bringing you an extra level of skin care in a hypoallergenic formulation for sensitive skin.
Original formula of MINON AminoMoist
Supports the barrier function that protects your skin from external stimuli.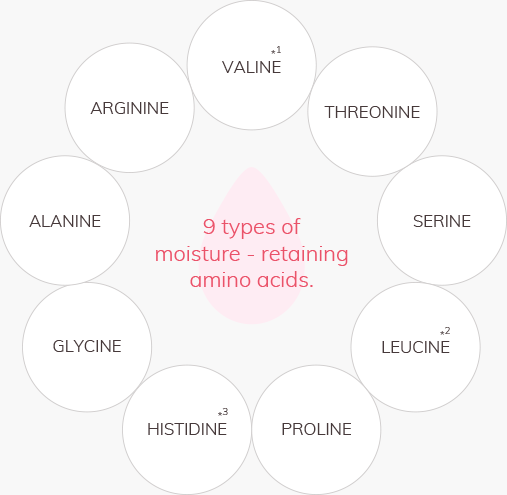 9 types of
moisture-
retaining
amino acids
Amino acid based cermide like components
Contains moisturizing membrane components
The unique triple approach of Amino Moist
Satisfies, maintains, and protects
your skin's moisture.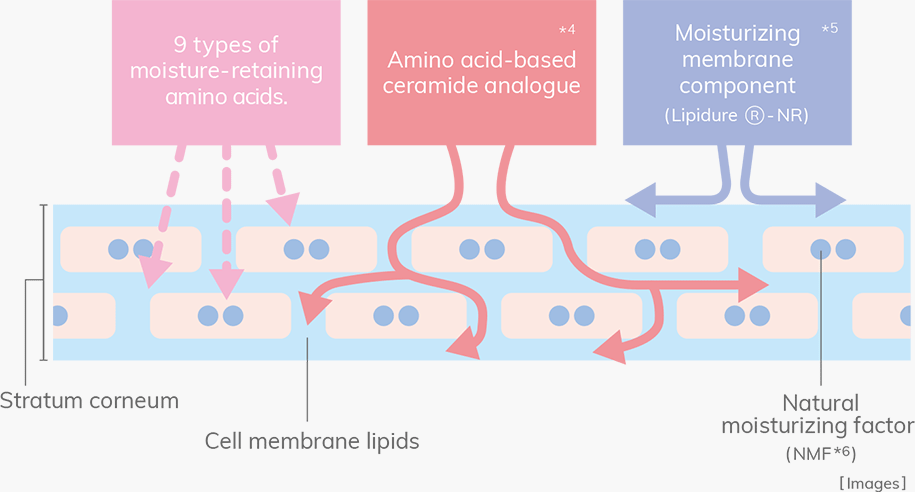 60~70% of human body consists of water, and about 20% of the body consists of amino acids. Amino acids are deeply involved with keeping moisture in one's skin.
We named 9 types of amino acid contained in MINON AminoMoist that constitute in natural moisturizing factors, which are essential for high moisture retention and healthy skin, as "moisture-retaining amino acids", and they are blended with our original balance. Moreover, amino acid-based ceramide analogue seeps into your skin as if it is filling the crevice of the stratum corneum and supports the intercellular lipid function. Additionally, moisturizing membrane component will spread on your skin much like your sebum barrier.
Unique formulation to care for troubles likely to occur with different skin types.
Sensitive skin / Dry skin line
Supports the texture, firmness and radiant
that you can see, touch and feel.
Two types of
translucent amino acids*7
Aiming for healthy and beautiful skin
that is full of moisture.

Sensitive skin / Combination skin line
Balanced support for those concerned
about dry skin and sebum.
Skin-conditioning amino acids*8
Contains extract from
Somei Yoshino cherry tree leaves*9
By conditioning the skin and keeping it
full of moisture, the balance of moisture and oil is maintained.
Sensitive skin / Aging care line
Provides plump elasticity and
supports radiant.
Two types of
translucent
amino acids*7
Guides you to firm and moisturized skin.


The Quasi-drug is L-valine
The Quasi-drug is L-leucine
Indicates histidine and L-Histidine monohydrochloride monohydrate
Phytosteryl/octildodecyl Lauroyl Glutamate [the quasi-drug is Phytosteryl/octildodecyl Lauroyl Glutamate]: moisturizer
Polyquaternium-61 [the quasi-drug is 2-methacryloyloxyethyl phosphorylcholine/stearyl methacryalate copolymer]:skin protection/glycerin [the quasi-drug is concentrated glycerin], Butylene glycol: moisturizing, excluding makeup remover, foam facial cleanser, cleansing agent
NMF: Natural Moisturizing Factor
Lysine HCl, carnosine (amino acid derivative) [the quasi-drug is L-lysine hydrochloride, tryptophan): moisturizer
Aspartic acid
The quasi-drug is cherry leaf extract: moisturizer
Acetyl hexapeptide-38: Gives skin firmness
Aging care: Care Based on age
All images are only approximations.
Mild formula developed by a pharmaceutical company
for dry or sensitive skin based on its dermatological research.
Fragrance Free / Coloring Free*1
Weak Acidity*2
Alcohol Free (Ethyl Alcohol) Additive-Free
Paraben Free
UV Absorbing Agent Free
Allergy Tested*3
Patch Tested*4
Stinging Test Conducted*4*5
(Test for checking the presence of stinging or burning sensation after use)
Tested for continuous use on dry or sensitive skin*4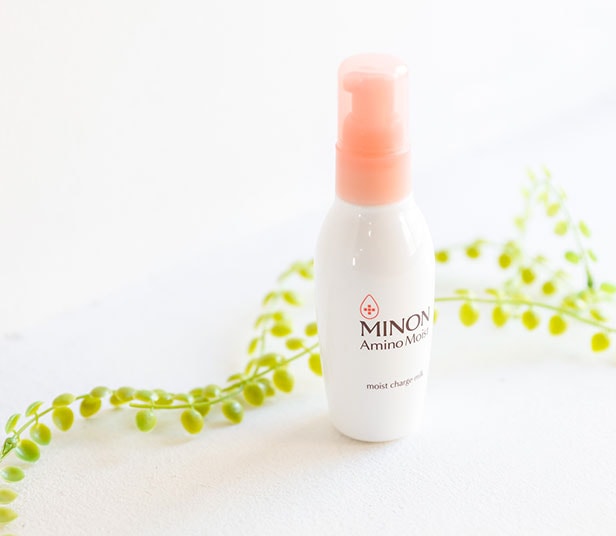 Excluding the make-up base. (make-up base does not include any artificial coloring)
Excluding the make-up base.
Some users may still experience an allergic reaction.
It may still not be suitable for all users.
Excluding the make-up remover, foam-type face wash and cleaning agent. (enzyme face wash powder)