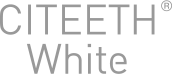 CITEETH White not only whitens teeth but also treats oral troubles
which makes it a high quality whitening toothpaste.
Pharmaceutically selected ingredients that help dislodge stains and dental plaque
that you care about from the surface of teeth
leading to a strong, smooth, polished, and white teeth.
"Triple Stain Off Prescription" *1 removes stain (coloured) by dislodging it from the surface of teeth.

*1 Formula containing 3 tar-removal ingredients (sodium polyphosphate, PEG-8, polyvinylpyrrolidone)

Fine particles within the cleaning component β-TCP (tricalcium phosphate) fights off impurities and removes dental plaque.

Facilitates the remineralization of smooth strong surface of teeth while preventing teeth decay.

An answer to oral symptoms that you care about as well as the whitening of teeth.
*1 Formula containing 3 tar-removal ingredients (sodium polyphosphate, PEG-8, polyvinylpyrrolidone)
CITEETH White + Gum CareFresh mint

50g / 110g

CITEETH White + Gum CareFresh mint

50g / 110g

CITEETH White + Breath CareExtra mint

50g / 110g

CITEETH White + Breath CareExtra mint

50g / 110g

CITEETH White + Teeth Decay CareSunny green mint

50g / 110g

CITEETH White + Teeth Decay CareSunny green mint

50g / 110g

CITEETH White + Hyperesthesia CarePink grapefruit mint

50g / 110g

CITEETH White + Hyperesthesia CarePink grapefruit mint

50g / 110g